Helping Project Managers Become IMPACT Drivers
Project managers are so much more than templates, tools, and process. We believe that project managers are the most well positioned to change the world for the better and we want to help you do just that.
THE TRUTH
If it's not clear how you're maximizing your company's return on their investment, your role might be considered administrative overhead. At PMO Strategies, we're here to help you drive high-IMPACT outcomes on every project — so there's no denying the clear-cut advantage you bring to the team.
Ready to take your rightful place
on the company chessboard?
Join us on a journey that will help you earn your seat at the table in 3 simple, strategic steps.
At PMO Strategies, your mindset matters.
Your business leaders need you to help them achieve their strategic vision. Our goal? To help you shift the project focus from transactional outputs to meaningful outcomes so that every project achieves the biggest bang for the buck.
It's been said that knowledge is power. But at PMO Strategies, we believe knowledge alone can only get you so far. After all, it's the application of knowledge that makes a real IMPACT, and we're here to maximize the impression you're making with every single resource in your arsenal.
You've already shifted your mindset and applied all the lessons — now what? This is where you earn your seat at the table for good by continuing to deliver on everything you've learned. And since personal and professional growth isn't a to-do list item you can simply check off your list, we'll help you embrace your continued development with strategic tactics designed to make sure you're always one move ahead.
Introducing the
IMPACT Inner Circle Membership
A membership program to help you make a bigger IMPACT on every project!
Learn new skills, address your toughest challenges, and create a greater IMPACT with your PMO and projects with access to our problem-specific bite-sized training courses, templates, guides, and assessments.
Earn PDUs across all 3 PMI Talent Triangle categories in our extensive library of 230+ targeted courses
Track your course progress on our downloadable student transcript and PDU certificates
Utilize our PMI-aligned IMPACT PM Framework with guidance and templates for all projects
Learn with our robust library of 50+ download and print eBooks on topics across the full PM/PMO spectrum
Evaluate your organization, team, and culture to lead change with our organizational change management assessments
Earn bonus credits to access free training when you take training programs
We'll help you realign your projects, team, and organization to drive high-value outcomes and provide you immediate actions, plans, and new solutions to your toughest challenges!
Learn More
The secret to your success?
A battle-tested journey that never changes, powering outcomes as unique as the clients and companies we support. Along the way, you'll gain exclusive access to a coveted range of Project Management insider knowledge — from the lessons we've learned to the secrets others aren't willing to share.
Anyone who knows chess knows that the Knight is the most versatile piece on the chess board. And that is so fitting for Project Managers, right? You've got to be part therapist, part strategic planner, and part cat herder, while you adeptly jump over barriers others put in the way. Our goal is to give you the resources you need to highlight the unique and powerful player you are on your company chess board.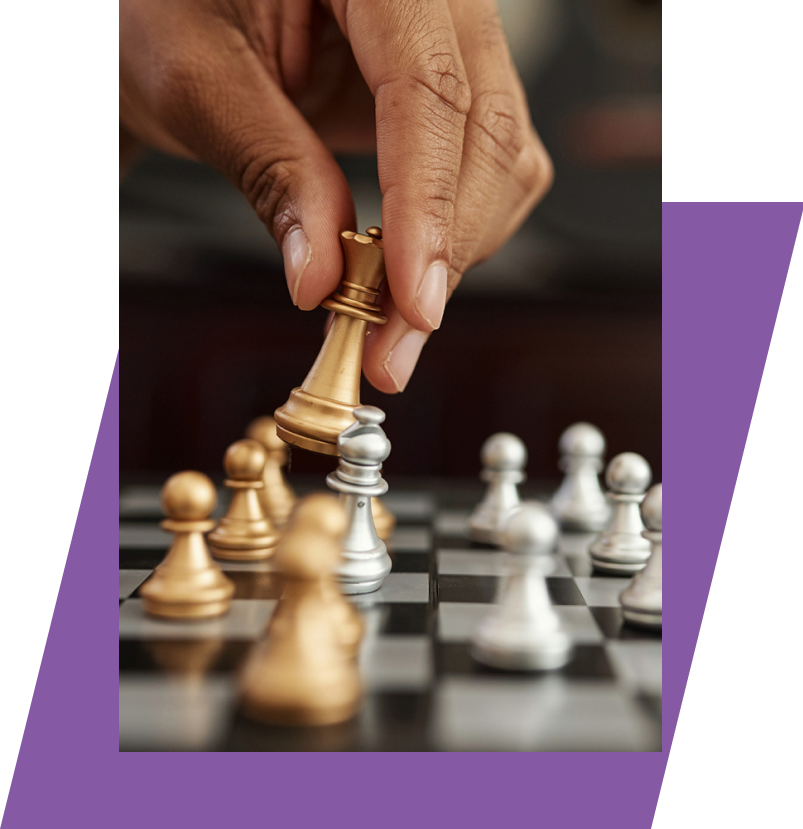 Great suggestions, wonderful templates – thank you for sharing. These tools will help me implement the lessons from today. And having the slides we could take notes on was helpful. I took a lot of notes.
I would highly recommend PMO Strategies programs. I've increased the depth of my project management knowledge and the speed at which I'm learning all of it. If you're executing projects or major programs, this is the place to start.
Really helped me validate that my team and I are doing the right things. Thank you! Also gave me some great new tools and templates to take back and use. Need to give this to my team!
Leading Edge Programs to
Elevate Your IMPACT
Seeking More Project Management Solutions?
Check out our curated lineup of exclusive content — it's all free to you and just a click away.
Follow our step-by-step IMPACT Driver Guide for ensuring all your projects are high-IMPACT.
Get Started >
Accelerate Your PM Career
Discover the secrets your business leaders wish you knew – that might just help you get where you want to go faster.
Get Started >
Creating Change that Sticks
Hitting a wall of change resistance? Learn the secrets to doing change with people instead of to them.
Get Started >
Continue Your IMPACT Driver Journey By Pressing Play