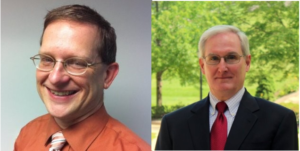 This week we are highlighting two industry leaders in the PMO space joining who will be joining us April 4, 2019. John Bowen a Senior Consultant and Executive Speaker to CXOs and Dave Smith the Executive Director for "Advanced Management Insight" the first real-world intelligence solution for risk identification.
Attaining Strategic Project Intelligence
Project Management 2.0 emerged from strategic planning and project leadership, but how can we use it to achieve more meaningful information with KPIs, metrics, and dashboards?
Strategic Project Intelligence
Effective project management (PM) is essential for corporate survival. The external environment in which every company operates is changing and changing at an accelerating pace. Forbes recently stated emphatically that corporations must … "Adapt or Die – Business Must Embrace Change to Remain Relevant." Note that fewer than 12% of companies in the S&P Fortune 500 in 1955 remained on the list in 2017. Companies on the list in 1965 stayed an average of 33 years. Companies on the list in 1990 stayed an average of 20 years. 50% of today's S&P 500 will be replaced over the next ten years. By 2026, the average life expectancy of a corporation will be just 14 years. (AEIdeas)
"Projects drive business innovation and change; in fact, the only way organizations can change, implement a strategy, innovate, or gain competitive advantage is through projects. The next untapped candidate for significant improvements in a company's pursuit of competitiveness is the project activity of the organization." (Reinventing Project Management)" -Reinventing Project Management

"Projects have become the essential part of any organization. … by 2025, senior leaders and managers will spend at least 60% of their time selecting, prioritizing and overseeing the execution of projects. This massive disruption is … impacting how organizations are managed. Every aspect of our lives is becoming a set of projects." – CIO Magazine
Unfortunately, for many companies, project management effectiveness is not adequate. According to the Project Management Institute (PMI), "only 35% of projects finish on time and within budget, and only 65% meet their original goal and business intent." We must do better.
Don't miss your chance to join John, Dave, and several other PMO thought leaders at the PMO Strategies workshop!
What is Strategic Project Intelligence?
Strategic: stra-te-gic [struh-tee-jik] Relating to the identification of long-term or overall aims and interests and the means of achieving them.
Strategic Project Intelligence is the discipline of continuously acquiring intelligence about every project and making strategic decisions regarding the scope or continuance of those projects. Every project is strategic. By this we mean that the only justification for any project is the extent to which it supports one or more of the strategic objectives of the organization. Typically, a company's strategies are:
Sustain the business, i.e., maintain the financial health and viability of the company within its current business model,
Grow the business, by expanding or extending current products and services, or
Transform the business, through pursuing entirely new business lines.
Projects directly support business strategies by addressing one or more of the following objectives:
Increase revenue
Decrease costs
Lower risk
There are no other reasons for undertaking, or continuing, a business project. (It is important to clarify that these objectives relate only to business projects. Projects may be undertaken for charitable or philanthropic reasons, but these are not defined as business projects.)
Every project must be evaluated continuously to ensure that the environment and assumptions in which it was defined remain valid and that the project is still projected to deliver business value. This ongoing assessment is undertaken by means of a project governance process, measuring anticipated project value against an ever-changing set of corporate strategic objectives. Performing project governance demands that we accumulate project data, project information, project knowledge, project intelligence.
"Governance of a project involves a set of relationships between the project's management, its sponsor (or executive board), its owner, and other stakeholders.

Project governance provides the structure through which the objectives of the project are set, and the means of attaining those objectives and monitoring performance are determined."

((Turner, J. R. (2006). Governance of project portfolio management. Project Portfolio Management Year Congress, Amsterdam, The Netherlands)
Don't miss your chance to join John, Dave, and several other PMO thought leaders at the PMO Strategies workshop!
What is a Project?
Project: proj-ect [proj-ekt] A collection of realized and sustainable business value
Traditional project management, developed during the second half of the 20th century, focuses almost exclusively on managing the two objective, quantifiable, dimensions of schedule and cost. This is unfortunate because every project consists of (at least) ten dimensions (Knowledge Areas in PMI vocabulary). Eight of the ten dimensions are subjective and difficult to measure yet studies have proven repeatedly that 85% of project failures, i.e., failing to deliver the business value for which the project was justified and initiated, are the result of inadequately managing one or more of the subjective dimensions.
To address the shortcomings of traditional project management (often now labeled PM 1.0), we must take several steps. First, PM must adopt a stronger focus on effectively managing all ten project dimensions, especially the eight subjective, or human, dimensions.
Second, we must emphasize the additional disciplines of project leadership, project stakeholder collaboration, project governance, stakeholder input and feedback, defined metrics and continuous/proactive monitoring of project conditions. These additional components are defined as PM 2.0. PM 2.0 is focused on providing project intelligence and on ensuring that every project delivers business value to support the organization's strategic vision.
The very definition of a project is changing. Traditional project management defines a project as "a temporary endeavor undertaken to create a unique, service or result." This definition fails to acknowledge the fact that a business project should only be undertaken to the extent that it delivers business value, measurable business value. The emerging definition of a project, as defined by PM 2.0, is "a collection of realized and sustainable business value." The definition of project success likewise has evolved from "completion of the project within the triple constraints of time, cost and scope" to become "achieving the desired business value within the bounds of competing constraints" (however many there are).
PM 2.0 has been adopted by hundreds of Fortune 500 companies and leading government agencies, most notably NASA. In fact, NASA's wholesale commitment to PM 2.0 beginning in 2010 has resulted in an increase in project success from 30% (2010) to 80+% (2016) according to an assessment conducted by the General Accounting Office in March 2016.
We can state with confidence that PM 2.0 will be used increasingly for most projects, especially large, complex projects. We have been informed that the Project Management Institute (PMI) will embrace PM 2.0 and will formalize its concepts in future editions of the Project Management Body of Knowledge (PMBOK). Successfully managing, leading and sponsoring business projects in this new climate will demand the following:
Enhanced project, program and portfolio governance
Collaboration among all project team members, impacted business personnel, contractors, subject-matter-experts, project leadership, executive sponsors, etc.
Enhanced metrics, key-performance-indicators (KPIs) and early-warning-signs (EWSs)
Continuous status presentation employing dynamic, customizable, dashboards • And, most importantly, project leadership subsuming project management
The benefits of PM 2.0 lie in its adoption of a flexible "framework" of methodological guidelines, its ability to support a rapidly evolving business climate and changing priorities, its more disciplined adherence on project governance and its evolution of the role of project management to project leadership. Steps your company can take today to begin the adoption of PM 2.0 include:
Implement project dashboards for status reporting and eliminate paper status reports
Implement a process for measuring the subjective dimensions of every project
Identify the business value created by every project and measure/report progress and results
Identify or define interim states for every project and modify project plans to include value-added deliverables produced at least quarterly
Implement a collaboration tool to facilitate project team interaction, to report and track issues and to provide status to project sponsors and stakeholders
For readers seeking additional information about PM 2.0, we recommend the book "Project Management 2.0: Leveraging Tools, Distributed Collaboration, and Metrics for Project Success" by Harold Kerzner, PhD.
For those interested in implementing PM 2.0 within their organizations, we have developed a series of courses to train project managers in the discipline of PM 2.0, a curriculum we have named PMPlus ™.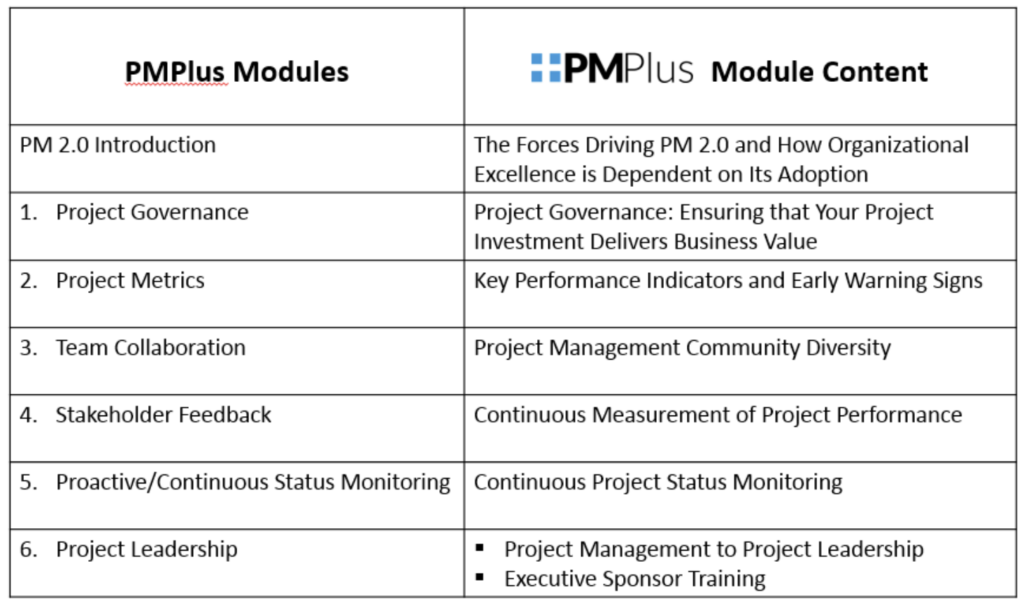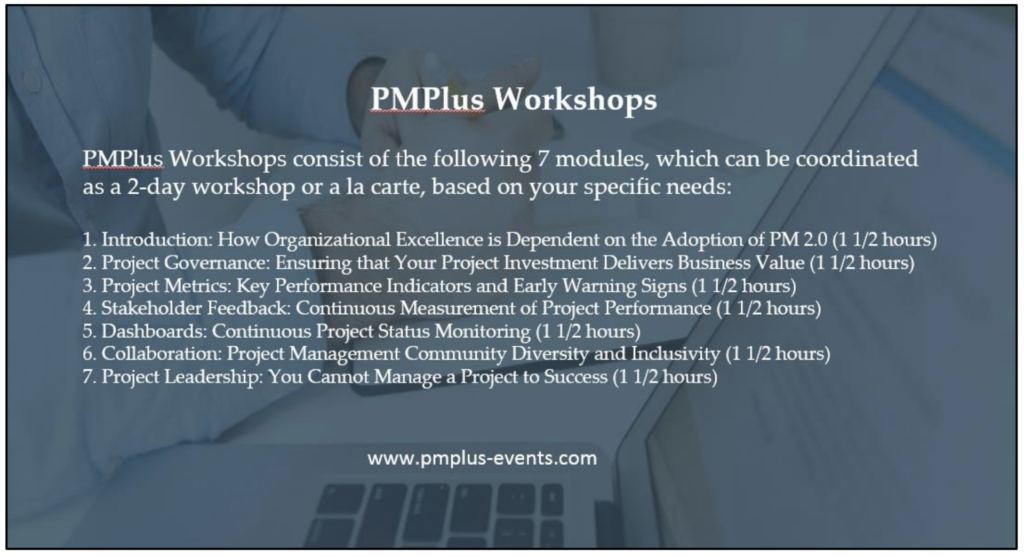 Tools are emerging in the marketplace to support, to facilitate and to enforce adherence to the six elements of PM 2.0. PM 2.0 systems should provide the features listed in the following table: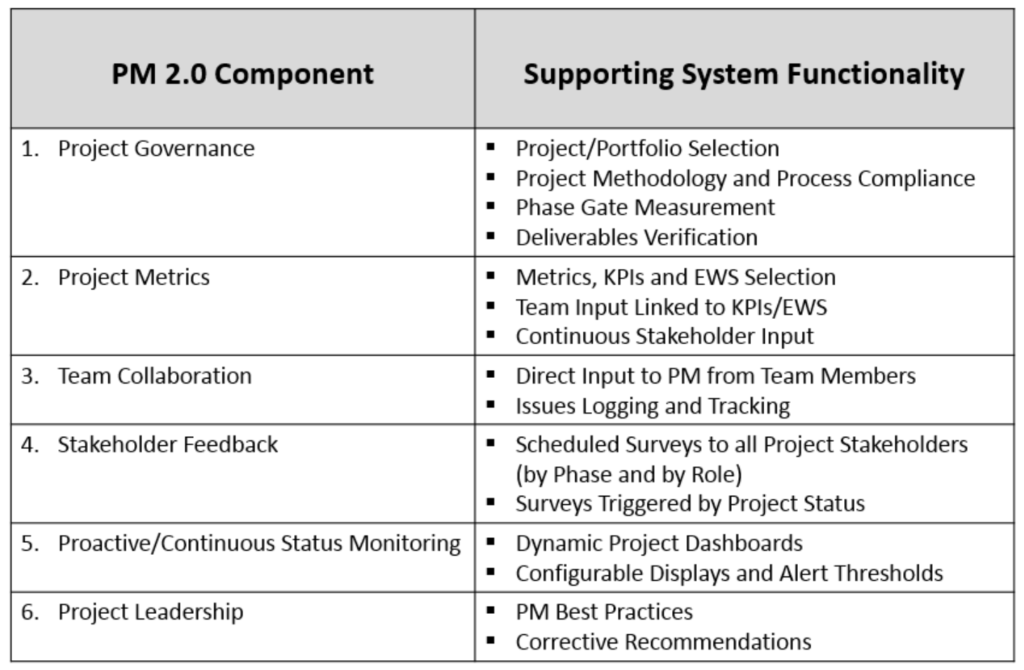 Don't miss your chance to join John, Dave, and several other PMO thought leaders at the PMO Strategies workshop!
How Do We Acquire Project Intelligence to Make Strategic Decisions?
Intelligence: in-tel-li-gence [in-tel-i-juhns] 1. Capacity for learning, reasoning, understanding and similar forms of mental activity 2. Aptitude in grasping truths, relationships, facts, meanings, etc. 3. The faculty of understanding 4. Information 5. Knowledge of an event, circumstances, etc.
We must examine the source of Strategic Project Intelligence a bit more closely. Those responsible for making decisions about initiating, continuing or canceling business projects are the executives, i.e., leaders, of the company. Typically, these executives also serve as the sponsors of one or multiple projects. To make informed decisions, leaders require intelligence regarding the current and projected state of every project, intelligence that is independent, i.e., not filtered by bias, agendas, vested interests or overconfidence. To understand the origin of project intelligence, it is necessary to drill down to its sources.
Conventional information management systems, such as MSProject ™ or Primavera ™ in the case of project management, or accounting or time reporting systems, provide only raw, objective data, without filtering, analysis or context. It is impossible to understand the real status of a project using only data provided by traditional project management systems. This data contains only trailing information, telling us where we have come from, not where we are going.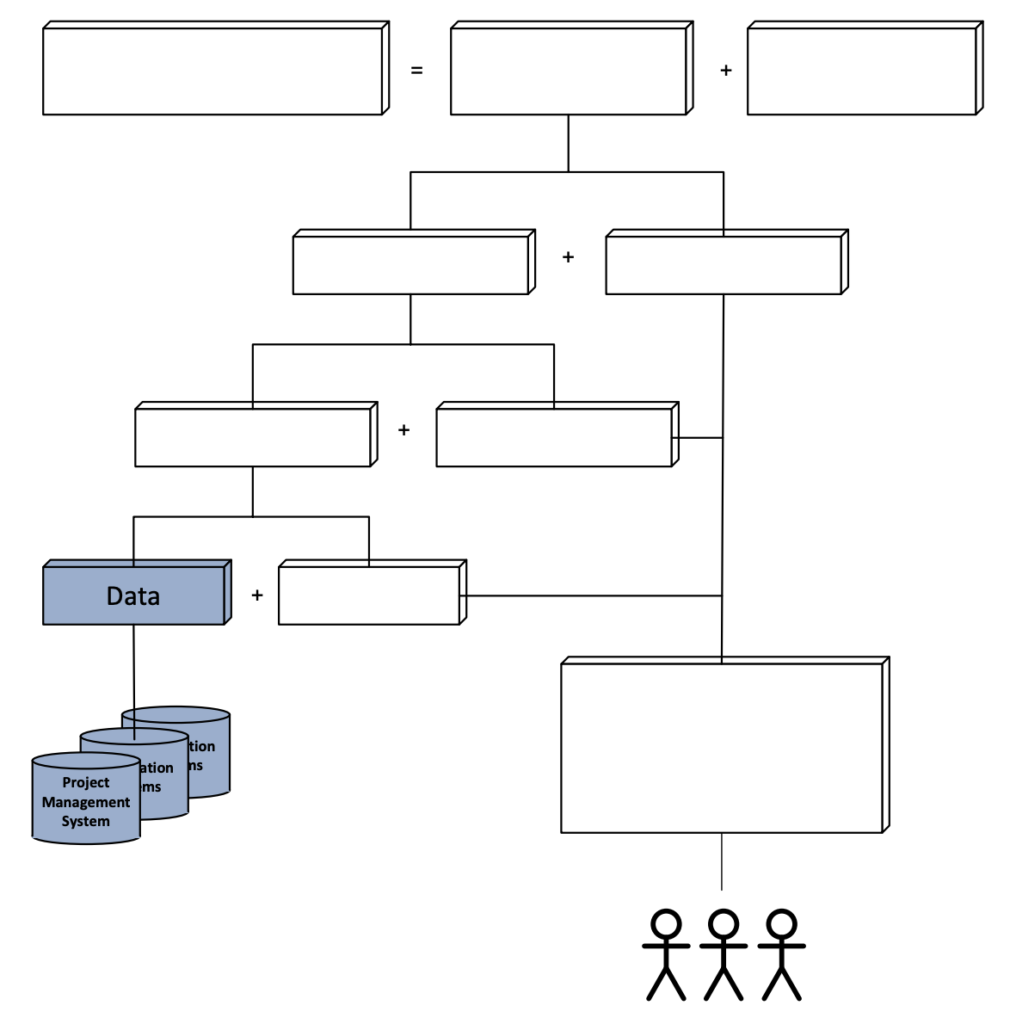 Projects are about people. Projects are the collaborative effort of executives, project leadership, the project team, stakeholders, contractors, vendors, and more. The actual status of any project can only be determined with input from all of these people. Unfortunately, traditional feedback mechanisms only provide input that is independent of system data or process (project) status. They yield opinion that is not correlated with project tasks, project phases, resources consumed or deliverables completed.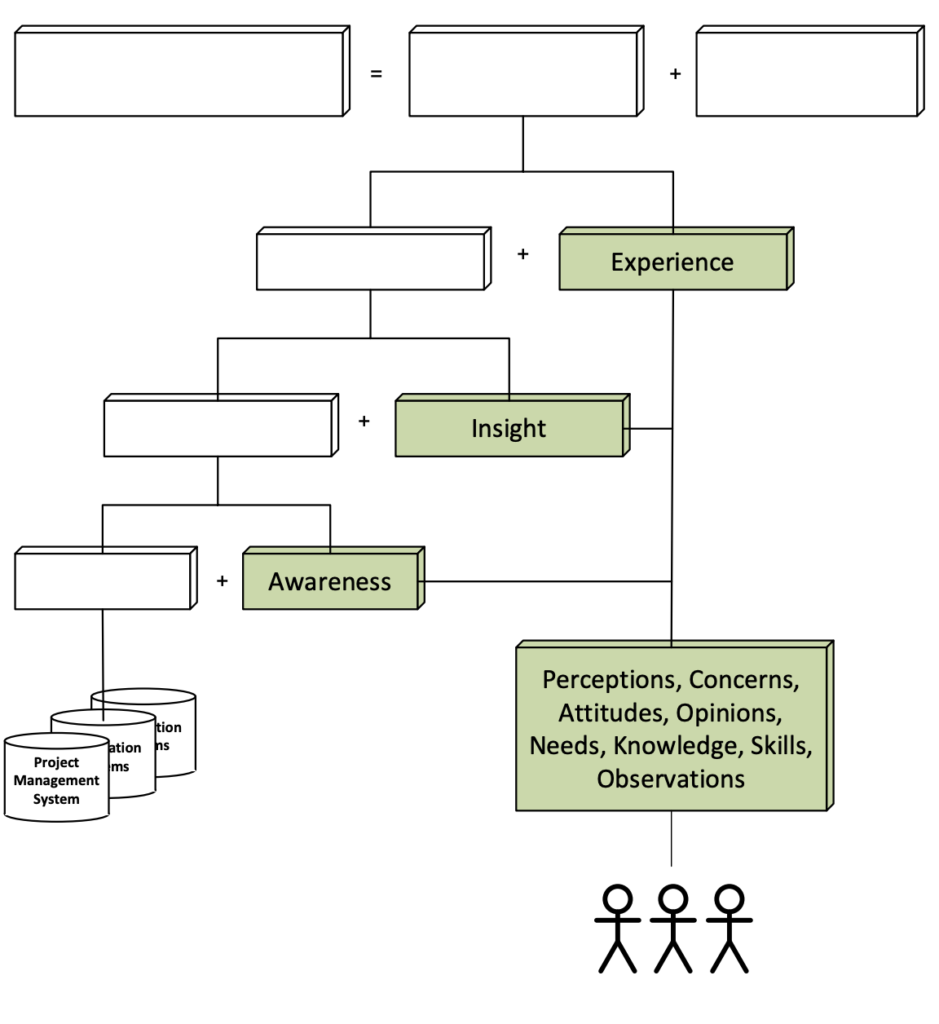 However, combining objective (system-derived) data and subjective human feedback yields invaluable information about the true status of a project. Adding awareness to data produces information. Combining information and insight generates knowledge. And, knowledge, combined with experience and best practices gives us intelligence. Project intelligence provides forward-looking information that serves as an early warning system to support project course corrections and avoid project risks.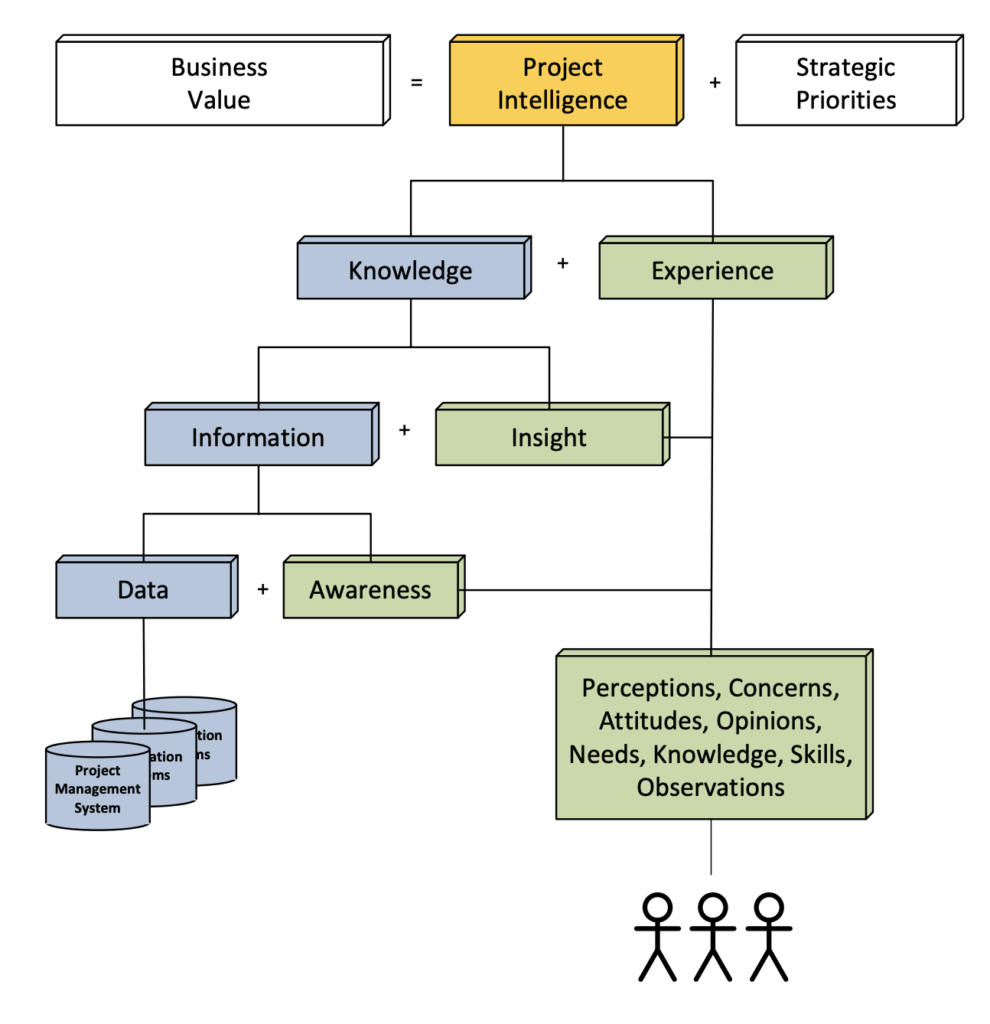 Project Intelligence, derived from system data (traditional project management, accounting, human resources and scheduling systems) combined with continuous human feedback from all project stakeholders through correlation analyses, data analytics and PM best practices, provides awareness to make informed, proactive, strategic decisions about all projects in an organization's portfolio.
Strategic Project Intelligence is the result of continuously aligning project intelligence with strategic priorities. Strategic Project Intelligence ensures that all projects deliver completed and sustainable business value which, as we know, is the new definition of project success.

Strategic Project Intelligence is an imperative for improving project leadership and project effectiveness.
A final thought: Leadership = Vision + Strategy. It is not enough to have a vision; it must be made real by means of a viable strategy. And, Strategy = Vision x Resources. A vision must be tempered by the reality of the resources available to the organization, including people (skills), money and time. Both the company's vision as well as the resources available may (will!) change, perhaps often, perhaps continuously. For that reason, the company's strategic priorities will also change. And, it is also for that reason that Strategic Project Intelligence is so important to maintaining constant alignment between project objectives, i.e., delivered business value, and organizational strategies.
Don't miss your chance to join John, Dave, and several other PMO thought leaders at the PMO Strategies workshop!