Unleashing the Power of Project Management
In most every community, around the globe, there are those that need help and fortunately, in many of those communities, there are those willing to help. Whether it is housing our homeless veterans, ensuring that the abused have a haven, helping to make clean drinking water a reality for every human being, or the myriad of other important causes, there are endless ways that we can give back to our communities and make a difference.
For many of us, when it's time to give back, we have two choices, we can write a check, or we can give something even more valuable, our time. In today's fast paced world, our time seems to be the thing that is the hardest to part with, the hardest to share with others. So, when we do take the time to give our time, we want it to have meaning. We want it to be worth it. We want to make an IMPACT.
For those of us in the Project Management community, we now have an extremely rewarding, important, and most of all, high-impact way to do this. Imagine if you could see and feel the impact you were making on others immediately AND leverage those many years of project management experience you have worked so hard to accumulate. Imagine the lives you could touch. Imagine the impact you could make.
A Small but Mighty Team

That's where a small DC-based nonprofit organization comes in. This tiny, yet mighty organization has been quietly changing the lives of thousands of project managers and nonprofits over the last five years doing something that has never been done before, quite this way, anywhere in the world. One of the facets that makes their work so unique is that they are changing the way Project Managers give of their most precious resource, time, using very hard-earned skills they usually don't get to use when giving back to the community.
This nonprofit organization is called Project Management for Change. Their mission is to unleash the boundless potential of the Project Management Profession to empower and transform communities around the world. And they are doing just that.
Their signature event is called the Project Management Day of Service (PMDoS)™.  The first event took place 5 years ago this week on Martin Luther King Jr. day, a national day of service in the United States. On this anniversary, five years later, the 5th DC-based event is about to take place.
What is PMDoS?

PMDoS is an event that brings together hundreds of project managers with nonprofit leaders from the local community to help them achieve their most pressing mission-critical objective. That's right, we have project managers helping local
nonprofits to get their projects done!  Hundreds of project managers roll up their sleeves to participate in the Project Management Day of Service (PMDoS).
Nonprofit organizations jump at the chance to receive pro bono support from project managers on how to assess the critical challenges they are facing and develop strategies to move their projects forward.
During the day of service, project managers are teamed up in groups of three to four and assigned the roles of lead, timekeeper, or scribe. Most volunteers are industry veterans, with at least 15 years of experience under their belts, but some are newer PMs eager to be in the middle of the action and learn from the experts while making a difference in their local communities.
"Our call to action is, most specifically, project managers stand up and be counted, take your skills to a market that desperately needs you and probably can't afford you,'" J. Kendall Lott, the brain child of this amazing event.
Making an IMPACT
Project managers are uniquely positioned to serve the nonprofit community because they understand the challenges that most nonprofits face daily…the challenge of not enough. Not enough time, not enough resources, and definitely not enough funding to make the impact you'd like to make. That sounds like every project manager's challenge and it's certainly the struggle of nonprofit leaders in every community.
These events give project managers an opportunity leverage their hard-earned skills to give back to the community in a meaningful way, know the work they are doing is valuable and appreciated, and see the impact they are making on people's lives. For many that participate in this event, they share that this is the highest-impact day they have ever had as a project manager. Others enjoy the chance to share with their family and friends that "this" is what their profession is all about.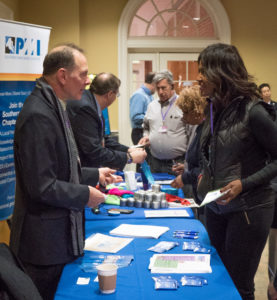 These events give project management organizations an opportunity to provide high- value pro bono project management volunteer opportunities and increase membership value and engagement. Adding additional meaning and purpose raises the profile of the Project Management profession globally.
These events give nonprofit organizations an opportunity to see the value of the Project Management profession applied directly to a business challenge their organization faces; seeing real-time, impactful results directly.
Getting Noticed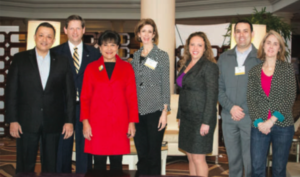 Over the years, Project Management for Change has received some very big attention. In 2015, the U.S. Secretary of Commerce, Penny Pritzker kicked off the day, in 2016, U.S. Administrator of the Small Business Administration (SBA), Maria Contreras-Sweet shared her thoughts on how important it is for nonprofits to have a business-minded approach to running their organizations, in 2017, the U.S. CEO of the Corporation for National and Community Service (CNCS), Wendy Spencer, shared insights on the impact of skills-based volunteering, and in 2018, Kim Mansaray from CNCS praised the group for their tireless work and life-changing efforts.
Additionally, in 2017, the PMDoS team won the prestigious Point of Light award to celebrate the power of individuals to spark change in the world by the Points of Light Foundation, founded by President George W. Bush.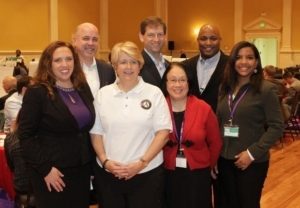 While these events began in the suburbs of Washington, DC, they have since grown to cover cities around the globe and continue to grow each year. The events have taken place in various cities around the United States including Washington, D.C.; San Francisco, California; Denver, Colorado; Hampton Roads, Virginia; Houston, Texas; Atlanta, Georgia; New York City, New York, and globally in Brisbane, Australia; Edmonton, Alberta Canada; Gdansk, Poland; and Somerset, England.
In the Washington, D.C. area alone, the organization has brought together nearly 1000 project managers and 300 nonprofits over the last five years, with many participants coming back year after year for the high-impact experience.
Now think about that impact across all these cities around the world. Talk about leveraging project management to be a force multiplier in creating change and making our world a better place!
And all of this has been accomplished with an entirely volunteer run organization. This means every single penny contributed by donors and sponsors goes directly toward serving the nonprofit community. How many organizations can say that?
This illustrates the power of what project managers can accomplish.
How do I know so much about this organization?
I know, because I was there, in the beginning. I stood next to my friend and colleague, J. Kendall Lott, when he shared this amazing idea and said, "I'm going to help you make this happen." Together, with our friend, Michael Hannan, we created an organization that has become recognized around the globe as a go-to resource for helping to unleash that project management potential on an eager, mission driven community. In 2018, we welcomed Beth May to the role of COO of Project Management for Change, adding to her already hefty title of Director of the Project Management Day of Service.
Over the years, we've had a great number of fantastic PM4Change volunteers that have helped us build the nonprofit, run these DC area events, and expand across the globe. To all of you, I want to share my deepest and most heartfelt gratitude for your engagement, service, and support. We couldn't have done it without you!
We are changing lives. We are making the world a better place.
I welcome you to join us in changing the world, one project at a time!
Here's how you can get involved:
Project Managers:
Volunteer to scope and plan projects with nonprofits at a future event or join the team that runs the nonprofit organization to help see a real global impact.
Find an event local to your area or start your own! You can reach out to your local PMI chapter or setup one through your organization. Just contact us at info@pm4change.org.
Nonprofits: Learn more about receiving pro bono project management services to help you with your toughest challenge!
Everyone: Help us raise the necessary funds to make these events happen and expand to new cities around the world. There are many ways you can contribute:
Donate to help us make these events a reality.
Use Amazon Smile to help us raise funds every time you shop.
Connect your organization to us to reap the many benefits of being a sponsor.
Help us get the word out!
Share this post with everyone you know. Send out to all of your social media networks! @PM4Change on Twitter / LinkedIn / Facebook
There are many ways you can support and be a part of this small and mighty organization. If you don't see something here that suits you, I welcome you to reach out and let us know how you'd like to be involved. We're always looking for impact drivers to join us. ?
In one of Dr. Martin Luther King, Jr's most infamous quotes he stated, "Life's most persistent and urgent question is, 'What are you doing for others?" On the third weekend of January every year, project managers answer Dr. King's question by showing up and giving their all to help nonprofits in disparate cause areas—from mental health to arts and culture, and beyond—construct the framework that will allow them to keep their doors open to the communities they serve.