Join us for an upcoming event!
[FREE Training] The Game Changing Steps to a High-IMPACT PMO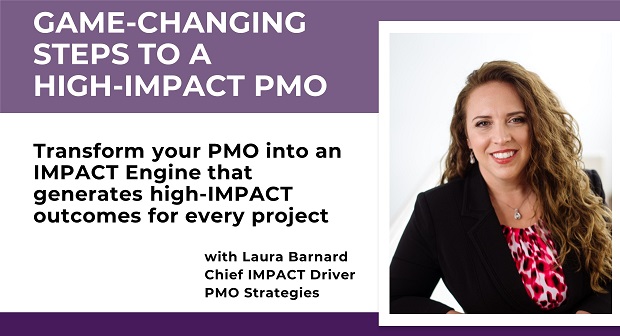 Audience: PMO Leaders
PMI Talent Triangle: Strategic & Business Management (60 minutes – 1 PDU)
Accelerate your PMO IMPACT and earn your seat at the table.
Whether you're starting a PMO for the first time, trying to get your PMO back on track, or just want to ensure that your PMO is as high-IMPACT as possible, this training will get right to the heart of what really makes a difference in the eyes of your business leaders, where to focus YOUR energy for the best results, and how to accelerate your PMO performance. ​

Here's what recent training attendees had to say:

"​​​​​​​Wow! This is by far one of the best webinars I've ever attended!"

"Thank you, Laura. I have been following your PMO Strategies content for a while now and today was like a mini MBA in setting up, sustaining & creating / delivering value with a PMO. Absolutely loved it."

"Thank you for such valuable free training! You've changed the way I think about the PMO and now I know exactly what I need to do to make a big impact."​​​​​​​
FOLLOW MY STEP-BY-STEP FRAMEWORK
My step-by-step system has been developed leveraging more than 24 years of real-world experience as a PMO leader myself, and then as a consultant, trainer, and coach. The work I do with my students has helped them earn a seat at the table to lead their organizations through times of crisis (i.e. COVID) and well into a new normal where the PMO and the organizations they serve are THRIVING!

In this one hour training, I will walk you through my proven six step process to transforming your PMO into an IMPACT Engine that has been elevating careers and getting outstanding results for PMO leaders around the world.

THIS IS THE PERFECT TRAINING FOR YOU IF…
YOU ARE BUILDING A PMO

Whether it's your first PMO or fifth PMO, you know you have limited time to start showing value and need to make sure you're following a proven system designed to get you results quickly and earn credibility and stakeholder buy-in fast. 

YOU NEED TO UP-LEVEL YOUR PMO

Your PMO already exists and it's time to deliver more value for the organization and you know you have limited time to keep that stakeholder buy-in and support. 

YOU WANT A CREDIBLE AND RELIABLE FRAMEWORK

You are smart enough to know you can't Google your way to a successful PMO and that the information you've found so far has been conflicting at best and dangerous at worst. You want to follow a proven system that has worked for PMO leaders around the world.

YOU HAVE A PMO OF ONE PERSON OR A SMALL TEAM

You don't have endless budget or resources nor a lot of time to waste making mistakes or learning the hard way. You want to be sure that wherever you focus your precious energy, it will yield results quickly. 

YOU NEED TO INCREASE STAKEHOLDER BUY-IN

You know that your stakeholders can make or break your PMO and you want to know exactly how to avoid resistance to your PMO and be sure you have a high level of engagement for the services you deliver. 
​​​​​​​This 1-hour training is designed to walk you through my proven six-step process to transform your PMO into an IMPACT Engine.
Allow 60 minutes to complete the training and claim 1 PDU.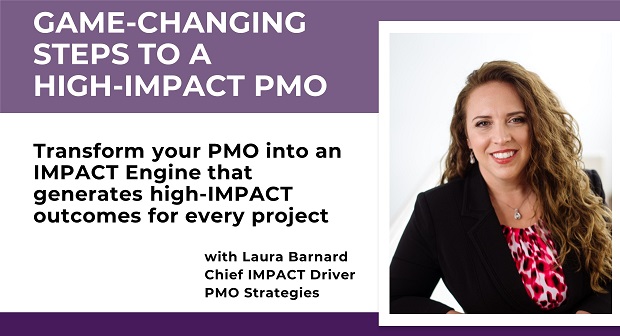 September 1
@
12:00 PM
–
October 1
@
12:00 PM
UTC+0
Share This Content!