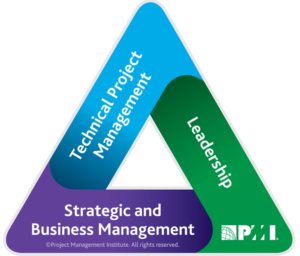 PMI Talent Triangle: Strategic & Business Management, Leadership
PDU: 1.5 – Strategic and Business Management and 1.5 – Leadership
Audience: Anyone in leadership from the C-suite to project managers
Are you prepared for the future of PMOs? The pace of change is ever-increasing and we face new demands for our time and resources every day. There is a shift taking place with PMOs and organizational change and we need to understand what's coming and prepare for that evolution. Join us to find out what you can do to get your PMO ready to evolve. After watching this presentation, you will be prepared to leverage a set of immediately applicable tools and techniques to help you Get. It. Done.
Review the video that provides training applicable to the

Preparing for the Future of the PMos!

Click the download tab: Use the

Future PMO Planner Workbook

to record lesson "takeaways" and key points, and to list the specific steps you will take to act on what you learned in this lesson.
Don't forget to download your materials!
A Note on PDUs
The course is a combination of watching the training videos, reading the materials, performing the exercises and taking the quiz. If you do all of this, you will be eligible for the 3.0 Instructor-led training PDUs upon completion of the course and all associated lesson materials. Remember, the online or Digital Media Education Instructor-led training PDUs includes the TOTAL amount of time it takes for the course and ALL associated lesson materials. That is defined as the total time it takes to complete the review of the course video, as well as the companion readings and completion of all associated exercises, workbooks, and/or worksheets, and the test of knowledge acquired.
For instructions on reporting your PDUs for this course, please visit the PDUs Reporting page.